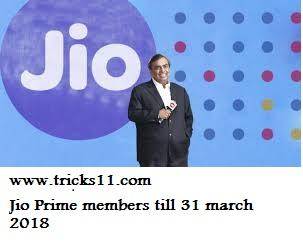 keep visit our website www.tricks11.com
Reliance jio again strike in telecommunication community Reliance Industries chairman and managing director Mukesh Ambani on Todayy said Reliance Jio, jio has crossed the 100 million customer base mark in 170 days. They launched its services in September last year and as on December 31, it had amassed over 7 crore subscribers. Jio had earlier extended its free voice and data services till March-end. Jio's aggressive entry has intensified competition in the telecom sector, hurting the margins of other players in the industry.
Here are the
specifications
of Jio prime offer:
100 crore GB of data was consumed by Jio users
Jio users consume as much mobile data as the entire US and nearly 50% more mobile data as China
Jio users consumed more than 100 crore GB of data per month on the Jio network, that's more than 3.3 crore GB per day
Will double Jio's data capacity in coming months
Jio has more than double the number of 4G base stations when compared to all the other Indian operators put together
Starting April 1, Jio will offer tariff plans
On all of Jio's tariff plans, all domestic voice calls to any network will always remain free
Jio will always offer better value for the same price
Roaming will be free on Jio's network
Jio will match the highest selling tariff of other operators and provide 20% more data than what other operators provide
'Jio Prime' offer at one-time fee of Rs. 99
Jio Prime members to get unlimited benefits till March 2018
Jio Prime members can continue enjoying the unlimited benefits of Jio New Year Offer until March 31, 2018
Jio Prime members can get this tremendous value at an introductory price of only Rs. 303 per month
Reliance Jio Prime member Ship Details
1.Reliance Jio Primeme mbership ship will be valid for 12 Months.
2.One time activation of Rs 99 fro Prime membership.
3.Existing Jio Users can Activate Prime Membership.
4.To Become a Prime Membership you have to make a Recharge of Rs 99 Before 31 March 2017.
Reliance Jio Rs 303 pack offer details
When you recharge your Jio number with Rs 303 pack, you get 1 GB of data every day for a month. All voice calls and SMS are completely free on any network.
You have to recharge this 303 pack every month via Jio Online Recharge portal or MyJio app. You can go to Jio stores for offline recharge option...
Important Note : Existing Jio Users can Activate Prime Membership from 1 till 31 March 2017.